31st May (World No Tobacco Day) = What's killing Youth and How to combat it?
The irony is, we all know that smoking is injurious to health but still we smoke. More and more people are picking up this habit every year.
Do you really know the risks of smoking?
Tobacco harms a person, family and finally the nation. Smoking alone kills more than 1 million people annually in India and it is the fourth leading cause of non-communication diseases like cancer, heart ailments, etc. A cigarette has more than 4,800 chemicals, out of which 69 chemicals cause cancer. Apart from cancer, smoking also leads to chronic bronchitis, slow healing, ulcer, infertility, hair loss and wrinkles.
Costly for your finances
If the dreadful picture on a cigarette box is not enough to deter you, here is alarming news for you.Besides adversely affecting your body, smoking affects your personal finances as well. Let's see how.
The biggest drain on the finances is the pricetag of cigarettes, which usually falls between Rs 10 and Rs 15/per cigarette. For the calculation, we are assuming the cost of one cigarette as Rs 12. It means, a person,who smokes eight cigarettes a day, is spending Rs 96 daily— or Rs 2,880/monthly.
However, this is not a static cost. Over the last five years, the prices of E- Cigarettes have increased by an average of 20%. The cost will escalate further with arise in taxes on tobacco products. Moreover, we have assumed that the person only smokes eight cigarettes a day, but the reality is that, there are people who smoke over 20-30 cigarettes a day.
Let's assume a modestrise of 6% in cigarette prices per year. Extrapolated over a period of 25 years, the smoker (mentioned above) will spend Rs 1.51lakhs (approx.) on cigarettes. However, if the smoker had annually invested the money spent on cigarettes (we are assuming Rs 1.50 lakhs), it would have grown to Rs 87.23 lakhs in 25 years, considering the rate of return as 6%.
The next major expense is on healthcare that a smoker has to endure. You don't need a medical expert to understand that smoking is the mother of various health ailments.
Let's assume, a smoker spends an average of Rs 500 a month on healthcare. Again, this will keep intensifying with the rise in medical inflation.If there is a 10% increase in the medical cost every year, a smoker willspend Rs 66,000 (approx.) in 25 years. If the smoker had invested the money (we are assuming Rs 65,000) annually, it would have grown to Rs 37.80 lakhs in 25 yearsat a 6% rate of return.
Smoking also means higher term insurance premium rates. Life insurance companies in India know that a smoker belongs to a high-risk category and therefore, they levy high premium. For instance, a 30-year old smoker has to pay Rs 1,348 per month for 30 years to get Rs 1 crore term insurance cover as compared to a non-smoker of the same age group, who would payonly Rs 877/month for the similar coverage.
Your family will pay the price
After seeing the difference in cost, if you are thinking to hide your smoking habits at the time of buying a term insurance policy, then remember, you are putting your family's security at stake by doing so. Even if you stop smoking for an extended period before the medical check-up, it will still show up in your blood. In case you dupe the insurer and pay low non-smoker premium rate, your family would have to face the brunt in case your death occurs due to an ailment caused by smoking.
Moreover,passive smoking is more dangerous than active smoking. As per the World Health Organisation (WHO), the tobacco epidemic kills around six million people every year out of which over six lakhs are non-smokers. It means, people who live with a smoker or are exposed to tobacco in their homes are more likely to fall ill.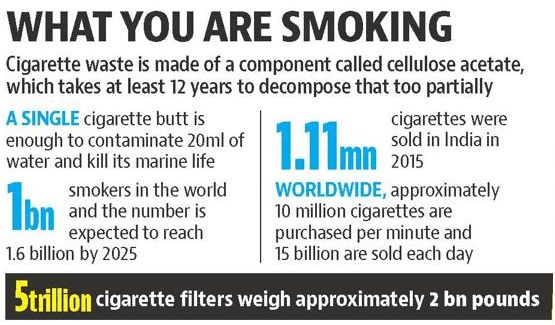 Source: The Hindustan Times
Is e-cigarette a safer choice?
Technology has pervaded every nook and corner of our lives. It has also brought a change in the way people smoke. Often termed as 'a much safer and better alternative to normal cigarettes', e-cigarettes are nothing more than a marketing gimmick. They are promoted in a way that people assume them as nicotine-free, but in reality, they contain nicotine and aldehyde, although in a minute quantity. These chemicals affect endothelial cellsinthe lungs and cause inflammation and damages in a long-run.
According to researchers from Texas Tech University, e-cigarettes pose a higher risk than tobacco smoking. When you light up an e-cigarette, it produces ultra-fine particles which get deposited in the throat and cause irritation and infection. Also, propylene glycol present in a cigarette can cause dehydration. Glucose is imperative for fueling brain activity, however, these electronic cigarettes lower the glucose level in a human brain.
An e-cigarette causes more damages to youngsterswho wrongly perceivesit to be a harmless option. However, soon they become addicted to it and finally switch to conventional cigarettes, which cause all the damages which we have just discussed above.
As per India's Cigarettes and Other Tobacco Products (Prohibition of Advertisement and Regulation of Trade and Commerce, Production, Supply and Distribution) Act, 2003 (COTPA), it is mandatory for every tobacco product, including cigarettes, to have a severe health warning on its packet and advertisements. However, e-cigarettes do not contain nicotine and therefore, they do not come under the purview of COTPA. As a result, they don't need to have a statutory warning on their packets. Moreover, unlike tobacco products, there is no age-limit for electronic cigarettes. It means, anyone can buy, irrespective of their age.
Now, when you have clearly understood the side-effects of cigarettes, it is time to take steps to quit it.
Never too late to quit
Smoking not only hampers your health, but disturbs the entire family atmosphere as well. Therefore, it is necessary to take steps now to contain the urge of smoking. Moreover, when you quit smoking, it becomes easy to get a health insurance policy. If you are thinking that why you should go for a health insurance policy when you have stopped smoking and you might not fall ill, then you should remember that the risk of catching a seasonal ailment is always there. As the medical inflation is rising at a frightening rate, a health insurance policy ensures that any hospitalisation doesn't burn a hole in your pocket.
If you already have a health insurance policy, your move to quit tobacco will also help you earn wellness points. You can redeem those pointsto avail medical services which are usually not covered under a normal health insurance policy, like diagnostic coverage, dental expenses, wellness & preventive care, and other charges.
What happens to your body when you quit smoking?
Though, smokers may witness withdrawal symptoms, these are only temporary and may go away with time.
How your body responds when you stop smoking, here is the timeline, according to the Centers for Disease Control and Prevention, to explain it:
20 minutes after you quit
Your heart rate starts falling.
Carbon monoxide levelof your body falls to normal.
Two weeks to 3 months after quitting
Lungs begin to function normally and the chances of heart attack also fall.
1 to 9 months after quitting
Problems, like coughing, shortness of breath, etc.; start disappearing
The risk of coronary heart ailmentsdrops by 50%.
Five years after quitting
The chances of getting a stroke are as low as that of a non-smoker.
The risk of dying due to lung cancer is nearly half as that of a smoker. Also, the risk of other cancers, likemouth, throat, esophagus, bladder, kidney, and pancreas declines.
The risk of suffering from cardiac ailments, like angina, heart attack, etc.; is as low as that of a non-smoker.

How to quit smoking?
Stress Less
What provokes you to take a puff of a cigarette? Is it too much work at office, hectic deadlines to meet, or your unhappy personal life? If any of this is a reason, it is the high time to address this issue. Picking up a cigarette is not going to end your woes, in fact, it will only worsen the situation. Do you know, according to the survey conducted by one of India's leading private general insurance firm a few years ago, most of the youngsters perceive smoking as a fashion status?
Exercise Daily
Exercising triggers the brain activity which further cuts the cigarette craving. As per researchers, exercising boosts your mood and cuts the desire for a cigarette. Here I don't ask you to hit a gym every day as merely a ten or fifteen minutes' walking, jogging or cycling is sufficient to kick the habit.
Chew the urge
These are not the ordinary ones, but nicotine free chewing gums, which smokers can use to desist their urge of lighting up the other cigarette.
Opt for counselling
Many hospitals have their separate counselling centres where experts offer medical assistance to those who want to quit but fail to do so.

If you think, "I should have this cigarette as my farewell to smoking", you are only fooling yourself. You would like to believe that this way it will work, but somewhere deep inside, you already know that it will not work. So, if you decide to quit, act now.
Even if you have tried several times to give up this habitin vain, keep trying. Maybe it is the seventh or eighth time when you will get the success!
Meet friends who do not smoke and most importantly, love yourself and your family, and give them a gift in the form of your good health! As I said earlier, they are falling prey to your smoking habit, although passively. So, bless them all with a good life!
It reminds me that old song, "Main zindagi ka saath nibhata chala gaya Har fikar ko dhuen mein udata chala gaya". Say hi to life and bye to smoking!
Author Bio-
"Ruchir Chauhan is a creative story teller (because someone has to get their hands dirty) who has dispersed his words around topics like technology, travel, health, auto content and home improvement. His work reflects a grin of knowledge, imagination and a fun element. Lover of road trips, animals, pizza and peanut butter, he is often found reading on the beach while sipping his favourite drink."