Kayla Itsines Sweat with Kayla App Review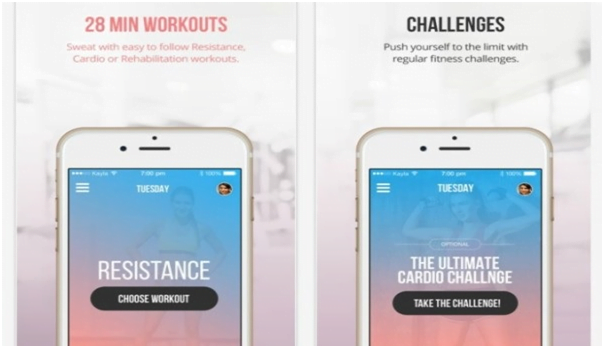 Over the last year or so, if you're in any way interested in the fitness world and/or have an Instagram account, you may have stumbled across a fitness application by Kayla Itsines called Sweat with Kayla app.
This application takes Kayla Itsines' Bikini Body Guide fitness program, which was previously only available in PDF format, and puts it all into one easy to access application right at the tips of your fingers.
If you've ever used Kayla Itsines' Bikini Body Guide fitness program before, then the Sweat with Kayla Itsines app might not be useful according to BikiniBodyGuides Kayla Itsines app review. However, it can be very useful for those who have never used the BBG before. Read on to learn more!
Sweat With Kayla App Introduction
Just go online and search for anything related to Kayla Itsines, or Sweat with Kayla, and you will see what kind of lean mean results you, too, can achieve. I admit, I understand the temptation to buy these guides. Just look at the muscles on these women! But at 50 bucks a guide, as well as the purchase of extra equipment needed to get the best results out of this program, it's a bit of a hefty price tag.
So Kayla Itsines designed and released a beautiful, convenient, and seemingly less expensive application called Sweat with Kayla. It is available on all iOS and Android devices, and the application is free to download.
It is available in the following languages;
English,
Dutch,
French,
German,
Italian,
Portuguese,
simplified Chinese,
and Spanish.
This means that it is now accessible to even more women around the world. It includes everything that was originally released with the BBG PDFs, with the addition of BBG 3.0 and a vegan nutrition guide, which are only available in the app.
So why, then, with 5.7 million followers on Instagram and events jam packed with (mostly) women sweating their booties off for ripped abs, are the reviews mixed about Kayla's fitness app? Because, if you're already one of the millions of women who faithfully bought and followed the original BBGs, then it just isn't worth it.
Kayla Itsines App Rundown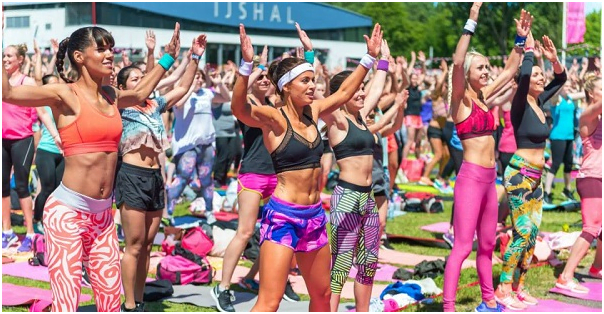 Kayla Itsines' app carries a price tag of $4.61 a week or $19.99 a month, or, if you're feeling really ambitious, $54.99 for a three month subscription. A three month subscription of the app is the equivalent time frame of BBG 1.0, which alone would cost you $53.01.
Tack on the price of BBG 2.0 and HELP and you're paying the substantial sum of $159.03. When you look at it like that, it makes a great deal of sense to jump on the Sweat with Kayla app wagon. You pay a third of the price and you have all of the above mentioned guides, plus a third round of BBG, a vegan nutrition guide, a place to store your progress photos, a shopping list, and constant updates to give you more workouts and new moves as you progress through the weeks.
All of this sounds amazing, and is, for those who have never participated in BBG before. The app costs the same as one coffee a week, so is affordable for those who will really use it. Definitely consider it if it's something that calls to you and sounds like a good idea.
There's even a 7 day "free" trial that you can use to see how it works. I say "free" because if you sign up for the trial you are automatically charged for the three month subscription, which you then need to cancel if you decide not to continue with the app. Keep that in mind.
However, if you are one of the millions who have bought, used, and benefitted from the original BBG, I would not recommend spending your money on the app. Here's why;
When the app was first released, even active members of Kayla's Army were forced to pay the same price for the subscription as the newcomers. That means that after paying $150 for the PDFs, they then had to pay $54.99 for the three month subscription to the app. Yes, they now have everything, which they already bought, housed under one roof and easily accessible. But $55 to consolidate what you already purchased is too much.
Secondly, the content in the app is not much different than that which is in the PDFs. There are still only photos to show you the moves; there are no videos. The moves are pretty much the same. Even in BBG 3.0, one of the main selling points of the app, the moves are the same as in BBG 1.0 and 2.0. The pictures are even the same. There is no increase in weight, only in reps, and some of the exercises could be considered dangerous without supervision, such as weighted jump lunges. You could seriously hurt your knees or ankles if you aren't doing them right. And without videos to show you exactly how it should and shouldn't be done, you're risking injury to yourself.
Finally, there is one major flaw with the app versus the original BBG PDFs. When you purchase the BBG PDFs, even at $150, they become yours for life. For a one-time payment, you now have access to 24 weeks of workouts, a meal planner, and recipes for as long as you want. You can print it out, you can access it on all of your devices, and you can reuse it over and over. On the other hand, the app is a monthly subscription. You must pay your $19.99 a month for as long as you have it, not only for 24 or 36 weeks. If you continue to subscribe, you have to continue to pay. If you choose to unsubscribe, then you lose all of your access to the workouts, to the recipes, to your progress. You are unable to continue on your own, like you can with the PDFs.
Final Thoughts on Sweat with Kayla App
I know that this Sweat with Kayla review may seem rather harsh. I acknowledge that this is a well-structured and put together fitness program that brings results. It absolutely makes reaching your fitness goals easier with ready to access material and a day by day calendar.
Yes, it is less expensive if you only use it for a short time. But there's absolutely no reason that one should have to pay twice for these materials. And if you purchase the guides once, print them, and use them forever, you will get more out of them than paying monthly for the rest of forever just to have them all in one place. So how much you are willing to spend on Sweat with Kayla App for convenience?