5 Types of Medical Marijuana for Pain Relief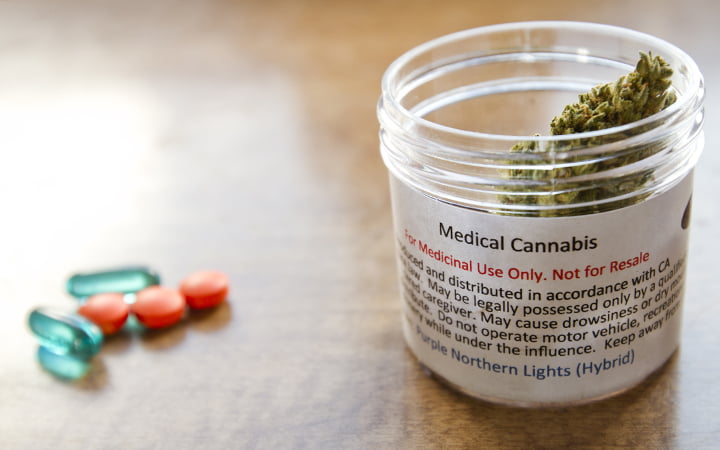 "Does medical marijuana have the potential to treat chronic pain?", is a question asked by many. So, let us answer the question for you with an almighty "YES"!
Since you're reading this, chances are you've heard the buzz that is currently circulating about using cannabis to treat various medical issues, what with the plant possessing immense value for the treatment of pain. In fact, pain is one of the most common applications for the tetrahydrocannabinol (THC) and cannabidiol (CBD)-rich plant, of which is grown with an endless range of cultivation and cross-breeding techniques.
From hybrid and indica strains to sativa-dominant strains, there is a lot to choose from when buying medical marijuana in San Fran. If you've never set foot inside a dispensary before or are curious about what to order when you contact a weed delivery service in SF, remember that every strain will differ somewhat. While some will provide a calming or uplifting effect, other strains will provide the user with pain and inflammation relief.
Should you be one of the 100 million people suffering from acute and chronic pain in the US, but don't want to resort to pharmaceutical drugs, why not go down the natural route? Medical cannabis can be purchased legally with a doctor's approval. Furthermore, there's a whole jungle of aromas and flavors to tempt you.
Choosing Effective Cannabis Strains for Pain
If you're still on the fence about using medical marijuana in San Fran to treat pain, pay thought to the many patient success stories that have surfaced as of late. Some examples include the story of cancer survivor Stefanie LaRue, the story of a mother using cannabis oil to treat her daughter's pediatric lymphoma, and the miraculous story of a two-month-old baby, whose father put cannabis oil on his pacifier and cured him of a brain tumor.
The genetics of a cannabis seed will determine it's effect on the user. With that being said, you ought to focus on the following five tried-and-tested strains for pain:
Blue Dream – This hybrid cannabis strain has a fruity flavor that is somewhat similar to the taste of blueberry, hence its name. Smokers enjoy toking the fruity strain to reduce pain. The THC ranges from 17-24% and the CBD is significantly less, at 1-2%.
White Widow – Aside from feeling numbed of any pain you might have been experiencing prior to trying this hybrid marijuana strain, White Widow will also leave you in a state of euphoria, making it suitable as a treatment for mental illness.
Jack Herer – Packed with 18-23% THC, this powerful Sativa strain was named after the cannabis activist himself. Fatigue, anorexia and depression can be treated effectively with Jack Herer, in addition to acute and chronic pain.
AK-47 – A unique blend of various other strains, including Mexican, South American and Thai Sativa, this mixed strain will not only ease pain but also, it can be used to control depressive thoughts and stress.
Bubba Kush – Enjoy the earthy flavor of this pain-relieving strain, which is preferred by many chronic pain sufferers as an alternative to sleeping aids, such as valium. Containing approximately 14-22% THC, Bubba Kush has no more than 1% CBD and is a sedative Indica-based strain.
How to Consume Cannabis for Pain Relief
The way in which you consume cannabis to relieve acute or chronic pain depends entirely on your personal preferences. A cloud of misconception hovers around the medical cannabis industry, with a lot of uneducated people believing that cannabis consumption is merely limited to smoking the herb. Although (for many) this is an enjoyable way to use marijuana, it is by no means the only way to get a hit of THC or CBD.
Smoking it can be enjoyed in more ways than one, with the typical smoker packing their ground buds into blunt cones or joints, whereas others prefer to fill their lungs by taking a hefty hit from a bong.
Below, we highlight some of the most popular methods of medical marijuana consumption (excluding smoking a joint):
Dabbing – This flash-vaporization technique involves inhaling the vapors of butane hash oil (BHO) for an intensely high feeling.
Vaporizers – Buy a vaporizer and heat oil with as much as 80% THC to relieve yourself of pain without harming the lungs.
Edibles – Everybody enjoys a weed brownie or cookie now and again. Alternatively, add some cannabis oil to your morning porridge!
Whichever method appeals to you most, it is crucial that you prepare by investing in the appropriate apparatus. Smoking medical marijuana in San Fran demands nothing more than rolling papers, a grinder and a lighter. Vaporizing, baking edibles and extracting CBD oil to make tinctures, for example, will necessitate additional equipment. Consider trying a few of the above consumption techniques to determine what works best for you prior to stocking up on those pungent green nuggets.
Where to Buy Medical Marijuana
The residents of numerous states have been blessed by new laws pertaining to cannabis. Thanks to the changes in legalization, it is now possible to walk into a dispensary/store that legally stocks and sells medical marijuana in San Fran, browse the menu and complete an order with help from a 'budtender'. Keep in mind that there are a few things to look for in a reliable dispensary, such as affordable high-quality weed, an online presence and of course, knowledgeable staff who can tell you how the plants are individually cultivated.