How to Choose the Best Adjustable Dumbbells for Your Needs
If you are serious about losing weight and toning your body, then adjustable dumbbells are your best friends. With adjustable dumbbells, you are benefitting from a rigorous all-body exercise and workout, and you can use the dumbbells in the comfort of your home. Compared to traditional dumbbells, adjustable dumbbells don't require as much space.
If you prefer a certain weight, you don't have to buy an additional dumbbell which has the weight you want – with just one pair, you can already get the weight you prefer. Just a single set of these adjustable dumbbells can already replace approximately 19 to as much as 30 single dumbbells. But with the different models of adjustable dumbbells out there, how do you choose the best one for your needs? Here's a list of reviews of popular adjustable dumbbell models so you will learn how to know which adjustable dumbbells set is the best.
The BowFlex Select Tech (552) 
This set of adjustable dumbbells is perfect for people on the go who want dumbbells that can save them space. The range of weights provided by this set is from 5 to up to 52.5 pounds, allowing you to set the weights at 2.5- to as much as 25-pound increments. There are 15 weight settings, with the dumbbells at almost 16 inches long, 9 inches high, and 8 inches in width. Although this set may be deemed expensive by some, it is an ideal alternative for those who constantly travel and require a portable set.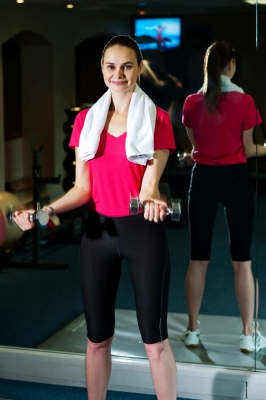 Unipack Cast Iron Adjustable Dumbbell Set
This set is said to be ideal for those who are just beginning to get into lifting weights, although they are also great for experienced weight-lifters. The set is comprised of two boxes, with each of the boxes having a chrome handle, eight plates of 5 pounds each, two 5-pound collars, two plates of 2.5 pounds each, and two plates of 1.25 pounds each. The set is known for being versatile, since you can do different exercises with it. With its reasonable price, it is a popular set.
This set is ideal not only for beginners, but for veterans as well. Each set is supplied with: four plates at 2.5 pounds each, four collars, four plates of 5 pounds each, along with a case made from plastic. The dumbbells are 9 inches in width, 8 inches in height, and 20 inches in length. One benefit of this set is that you can use weights of different sizes, but more than this, once you are done with your routine, the weights can be easily stored back in the case. Along with this, the set comes with ergonomic grips and comfortable handles, as well as collars with a rubber trim.
Image attributed to stockimages/FreeDigitalPhotos.net
http://www.freedigitalphotos.net/images/fitness-woman-lifting-dumbbells-photo-p209615