SINGLE CUP COFFEE MAKERS
The benefit of having your single serve coffee machine is that single cup coffee makers allow you to brew coffee one cup at a time. This is a wonderful idea for busy professionals on the way out to work in the morning, and especially so if you like the idea of making a great cup of fresh coffee with no mess or cleanup afterwards.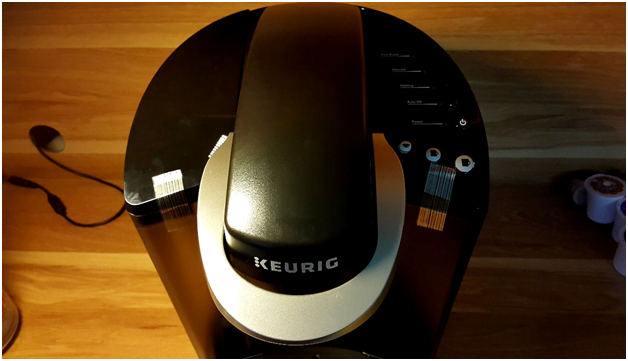 Single Cup Coffee Makers are fun to use
That may seem pretty elementary, but think about all the times you have tossed out half a pot of coffee, spent ages cleaning the coffee maker, and thrown water all over your nice new outfit, to boot!
Better Coffee: Better Drinks
Traditional coffee makers tend to make the coffee a tad bitter (if you leave the maker on) or cold (if you turn it off). You can't seem to win, … or can you?
Single cup coffee makers offer the convenience of making just the right amount of coffee, espresso, lattes (and whatever other drink your machine can make!) every time.
You can easily avoid wasting money and unused coffee when you purchase a single serve coffee machine. Not to mention the time saved cleaning up, time that's better spent on your family or professional life!
Money Spent: Money Saved
Some may say that the single serve, k cup or pod type of coffee is fairly pricey, but in reality you will be saving money because you will only be making one cup at a time.
Single cup coffee makers will brew up a great cup of coffee, tea, espresso or even a latte in a moment's notice, with little or no clean up involved (except the cup!).
But there are so many varieties of machines, coffee and drinks, and price points, it's hard to know…
Which pod coffee maker is the best?
To answer that question, let's explore the different features that are common on most single cup coffee makers.
One of the most asked questions is
"What is the difference between Tdiscs, kcups and coffee pods?"
The Tassimo coffee system uses a TDisc, which is slightly wider and flatter than the K-cup from Keurig. The K cup is more like one of those single creamer containers and it has a thin, foil lid, which is punctured by the coffee maker at the time of brewing your coffee.
The Tassimo home brewing system uses T discs, sold through Tassimo. And kcups are exclusive to Keurig, some times referred to as kcups or K-cup which is proprietary to the Keurig brand of single cup coffee makers.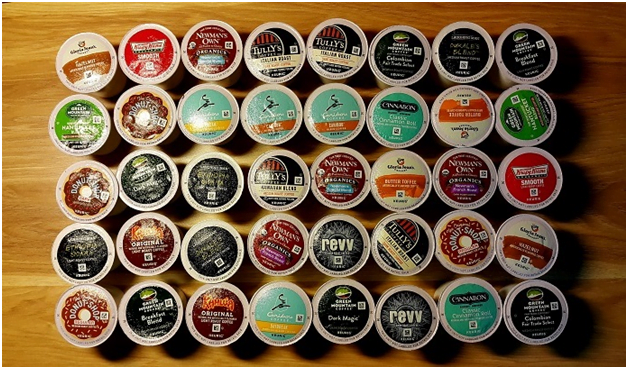 It's a fact that coffee pods are a more eco friendly version of a single serving of coffee, designed for the single cup coffee makers.
Pods consist of ground coffee, or tea, sandwiched between coffee filter paper. Many brands including Bunn, Senso and Krups use coffee pods and most are interchangeable with each other, as long as you check the grams per serving per pod.
Interchangeable pods or discs
Check to see if the single serve coffee machine you are considering can use other brands of coffee pods or coffee discs. Know that some pods will not fit some brewers.
Ideally, the coffee machine will include a refillable pod maker for your use, so that you need not be concerned about this.
It's never a good idea to be locked into one type of coffee pod, so leaving your options open is a real benefit for you.
Refillable pods
These are really cool, and very practical! Some single cup coffee makers include a refillable pod maker with the coffee machine. Others offer a coffee pod maker for sale separately.
Keurig my K-cup refillable coffee pod is eco friendy. Think green with refillable coffee pods like this one from Keurig
When you are able to use a refillable pod container you can select exactly which coffee, or even tea, you want to brew every time, and have complete control over the flavor and the strength of your coffee.
Alternatives to coffee pods
An alternative to using either T discs or Kcups is the one cup drip coffee makers that are readily available. These simple and very basic coffee makers can use either paper or permanent coffee filters.
They do take a bit longer to brew your cup of coffee, and you will not find the features that other single serve coffee makers offer, such as the flexibility to brew an espresso.
The best of all features is found in the Jura coffee maker that has a built in coffee bean grinder. This complete coffee center will brew up a single cup of coffee, an espresso, and even froth your milk for you with one button control without using pods, kcups or Tdiscs, because you are able to add your own fresh coffee beans directly into the hopper.
Brewing time
Most coffee machines will brew your single cup of coffee in short order. Some are faster than others, but it is really negligible. All of the one cup coffee makers will serve up a fresh, hot cup of coffee much faster than their whole pot cousins, with the exception of the one cup drip coffee makers.
Water reservoir size
Having a larger water reservoir will save time if you brew several cups of coffee at a time. The better one cup coffee makers have removable water containers, which are a really nice benefit. This will save having to fetch a separate pitcher to pour your water from into the coffee maker.
If you only make a couple cups of coffee a day, a larger reservoir isn't really a concern, and you will have the option of choosing a smaller, more compact coffee machine.
And did you know that several of the best single cup coffee brewers will alert you with a gentle beep when the water supply is low? This means you never have to worry about the machine running dry.
Filtration and water filters
If you are not using filtered or bottled water for brewing your coffee, consider a coffee maker that has a water filtration included. The taste of the finished cup of coffee depends upon the water you use to brew it, so always use the best water available.
Cup size
The simpler single serve coffee makers will provide a great cup of coffee, but cannot be adjusted to make a larger or smaller portion.
single cup coffee machine latteIt's easy to get creative with your latte
Most of us brew the same size cup of coffee every time.
But, it can be a real blessing if your single cup coffee maker is flexible enough to make a larger cup of coffee for your travel mug …
Or even smaller portions for when you would like to entertain.
Some of the newer single cup coffee makersthat accommodate a travel mug can easily accommodate a smaller mug, too.
Environmentally friendly
It is no secret that these k cup or pod using coffee makers use more packaging then regular drip coffee makers do. Producing more waste that eventually goes into our overflowing landfills. Many manufactures utilize eco friendly packaging, but you will loose some shelf life with their products.
It's always best to choose to use eco-friendly/organic materials whenever possible. The ultimate eco-friendly alternative to using kcup pods or coffee T discs are the refillable options that are available on many standard to more full-featured one cup coffee brewers.
These are also known as a coffee pod maker, some of the manufacturers include one with their coffee machines, and others offer them for sale separately. Keurig calls their refillable pod "My K-cup".
Programmable features
If you like to control the strength of your coffee, look for a coffee maker that allows you to dial in just how strong or how light you prefer your cup of coffee. The better coffee machines offer programmability for several different users, which is nice if your spouse enjoys a stronger brew than you prefer. So, with one push of a button you can enjoy your favorite coffee or tea just exactly the way you like it … and so can the other users in your household.
Along those same thoughts are being able to control the temperature of your coffee. Some like it really hot, and yet other people may prefer a not-so-hot cup of coffee.
For safety reasons, consider a single serve coffee machine with an auto shut off feature.
Do these single cup coffee brewers deliver the promise of a better cup of coffee?
It's said that you cannot reinvent the wheel … but I must say that the coffee I have tasted from these single cup coffee makers has out shined the traditional automatic drip coffee makers.
Coffee is one of life's simple pleasures and should be enjoyed to the fullest. Having a coffee center in the home is like having the local coffee shop at your disposal … all the time.Check out the complete list of reviewed coffee makers by the cupload!