Where You Can Ride a Fat Tire Bicycle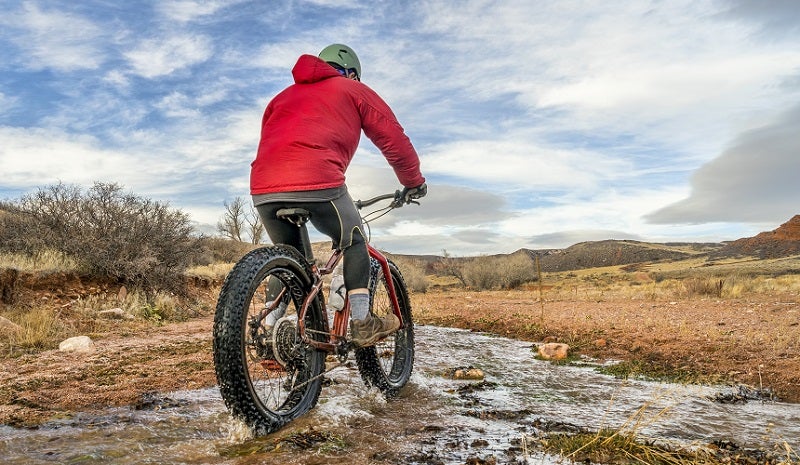 Fat tire bicycles have recently gained popularity after emerging from a relatively long period of obscurity. While fat tires may look odd to the unaccustomed eye, they are highly versatile and come in a range of configurations. From a womens hybrid bike style to a mens all-terrain commuter, there are plenty of options available to suit the needs of bikers everywhere. Of course, the bike that suits you depends on how you plan to use it. When choosing a bike, terrain is key:
To the Beach
Biking on the sand isn't a walk on the beach. Between the Oregon Coast and the Florida Keys, the United States has no shortage of beachfront connected to bikeable trails. While it is generally not recommended to bike on sand dunes, boardwalks and paths with a modest covering of sand are easy for a good fat tire bike to handle. If you live near a large beachfront area, an electric cruiser bicycle can be a smart choice. An electric motor can seriously cut down on pedaling energy expenditure, allowing you to fully appreciate a scenic trip down the coast.
In the Snow
Both commuters and casual bikers tend to put their bikes away when the temperature drops. Because snow and ice can render road bikes dangerous and unreliable, and because the wind chill of a cold day is amplified exponentially at riding speeds, many people simply do not associate winter with biking. Fat tire bicycles, however, were first developed specifically to handle snow and ice in Alaska. While larger tires are a relatively simple solution to the traction problems presented by snow and ice, they have proven extremely effective at reducing slippage and skidding.
On Biking Trails
Depending on recent weather conditions, trails can be dry, muddy, variable, or frozen. Many bike configurations require riders to predict trail conditions before leaving home. You can take a fat tire bike to the trail without having to worry about trail conditions or inclement weather. Because most fat tire bikes are built from the ground up for stability and durability, they also withstand dirt and mud better than less versatile rides.
In the City
While thick, reinforced tires are somewhat less efficient on pavement than road tires, most riders find that they work perfectly well for rides in the city. In fact, a large number of bikers prefer fat tire bikes for urban and suburban use because city riding often requires them to switch regularly between streets, sidewalks, and paths. Where high efficiency road tires pop easily when ridden over gravel, glass, or other debris, fat tires have no problem with most road debris. Look for a fat tire electric bike for sale in the city if you want the efficiency of a road bike and the versatility of a trail-rated mountain bike.
Buying a new bike is a big decision. Your choice will affect how often you ride, how long your bike lasts, and what kind of riding you do. If you are looking for a durable, multi-purpose adventurer or commuter, a fat tire is a wise choice.