How to choose colleges through MHCET
MH-CET is a common entrance test, conducted by the government of Maharashtra.  This entrance test opens up the path to health science studies like MBBS, B.Sc. nursing, BDS, BAMS, BHMS, BP&O and many others and technical education like engineering, pharmacy, biotechnology and lot more. This is a state based test but open to all students of the country. MHCET is generally conducted in the month of May and June. MHCET 2016 was scheduled on 05th of May, 2016.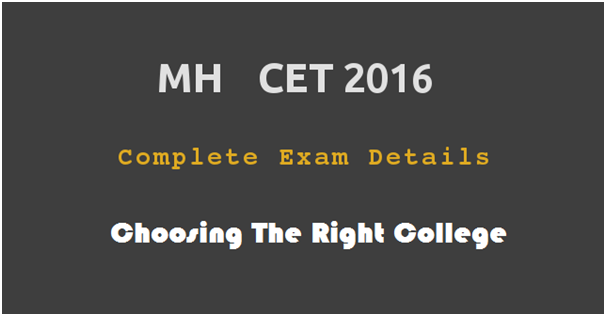 MH-CET: Exam Pattern
MH-CET is a common based objective admission test. The test happens in two types- MHH-CET for health science and medical students and MHT-CET for technical students. Every year more than 30,000 students appear for MH-CET out of which only top students get the chance to study in the prescribed colleges. Question pattern changes every year but syllabus is more or less same as All India joint examination. MHH-CET consists of the subjects like Physics, Chemistry and Biology and MHT-CET consists of the subjects- Mathematics, Physics and chemistry. MH-CET 2016 results are scheduled to be announced on June, 01, 2016.
How to crack MHCET
Basically, to get through any examination, it is important to prepare well for it. No one can ever teach you how to crack a test. Your teachers will only teach you the syllabus of the test. The rest trick is on you. To be honest, one can never get a magic tip to crack a test but there are certain methods which can help you to crack it.
First of all, before you start, get to know what you are preparing for. If you are preparing for MHCET, first research on the list of colleges that comes under MH-CET. Target the top colleges. And set you aim.
To start off with the preparation process, get to know the entire syllabus. You can download the entire syllabus for MH-CET from their official website. Mark you strong points and weak points. Initially start with important chapters so that you can complete maximum part of the syllabus.
Once you are done with the syllabus, start solving previous years question papers. You can easily download previous years' papers from internet or you can even buy the question bank from any nearby book store. Solving previous year questions will let you know how well prepared you are for the main test day.
Last but most important, stay up-to-date regarding the application deadline; admit card collection day and the test days. And since the test is online computer based test, remember once you submit an answer you won't be able to edit it. Hence be sure before you submit your answer.
How to choose colleges from MHCET
Once you are done with your main test, now you know how well you have performed. Start short-listing colleges. MHCET 2016 results will be out by June 1st, 2016. As soon as the results are out, there will be a constant chaos among your friends and family members, confused about selection of colleges. Stay calm. Once you know your rank, you will know for which colleges you are eligible. Search those colleges over internet and start applying for them. One of the most important criteria for selecting a college is looking ahead for your future. Go for a college with good faculty team and excellent placement record. Every college has a different counselling date. After you apply for the colleges, the college authority will themselves short-list the eligible candidates and call them up for counselling. You need not worry. But stay focused and updated.