Cosmetic dentistry treatments you can afford: Buy a new smile
Affordable cosmetic dentistry is your key to a brighter future. Make a good first impression — for that first date or that important interview — with a brand new smile. Smiling lifts the mood and fights depression, and it can change your life, too!
Nearly 50 percent of Americans say, when it comes to first impressions, a person's smile is more memorable than words. Unfortunately, too many people put off important cosmetic dental treatments because they think they can't afford it. But a smile makeover doesn't have to cost and arm and a leg — what are you waiting for?
Professional Tooth Whitening
Home whitening kits make a lot of promises, but their results pale in comparison to the brilliant whitening that comes only from your dentist's office. A boxed whitening kit offers a quick fix for minor stains, but a serious smile boost requires more than just a shade or two of lightening.
Professional in-office tooth whitening costs a bit more upfront than the boxed kits, but the results are tailored to your specific needs. It's an instant change and the desired change is often completed within a single lunch hour, as opposed to home kits which can require multiple applications. Professional whitening also guarantees safety and security without the worries of over-bleaching, toxicity, and sensitivity issues due to exposed nerve cells, gingivitis, or weakened enamel.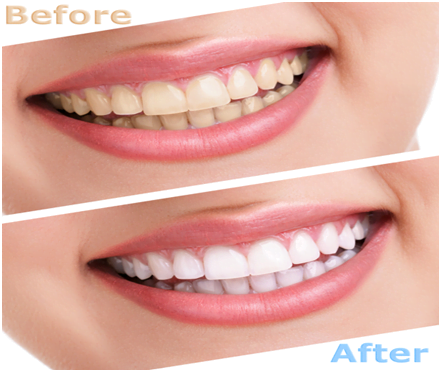 Dental Bonding
Don't let a crooked tooth or a lifelong gap keep you from smiling. Address your insecurities head on. Cosmetic dentistry is a personal choice meant to improve individual confidence and help you reach your goals — and with today's great options, you don't need years' worth of metal clamps need affixed to your pearly whites.
Bonding can repair minor cosmetic errors or even fill in moderate gaps that would otherwise require more invasive orthodontic procedures. By matching tooth-colored composite materials to your existing teeth, your dentist can cover stains, repair chips or fractures, and fortify enamel. Averaging well under $500 per tooth, this procedure is considered the most affordable cosmetic dentistry option for an array of repair needs.
Bridges and Crowns
According to the American College of Prosthodontists, 178 million Americans are missing at least one tooth. Almost 40 million residents live without any teeth, and that number grows during the senior years. Multiple reasons — from decay and inadequate oral hygiene to smoking and alcohol abuse — account for these shocking numbers. But one thing is for sure: ignoring one missing tooth leads to excess bacteria formation that eats away others nearby.
Bridges and crowns are easy and often affordable solutions to remedy these issues before they lead to something far more serious. Crowns, also known as caps, are prostheses (false teeth) that are created to fit inside the gap and take the place of the missing tooth. Bridges are multiple crowns that can cover up to three missing teeth. Averaging $1,000 per crown, this option can be a reasonable permanent solution when combined with good oral health habits.
Not every dental repair requires your taking out a second mortgage. So many cosmetic dentistry treatments can be quick, painless, and affordable. Discuss options with your dentist and take your time deciding. Combination repair needs can be split up over the course of a year, and many items are at least partially covered by insurance. Don't let minor aesthetic issues keep you from being happy and successful for another minute. You deserve to smile again.
Sandip Sachar, DDS provides affordable cosmetic dentistry treatments to help you makeover your smile and improve the look and health of your teeth. Sachar Dental is located in midtown Manhattan in the heart of New York City.