Top 5 KENT RO Water Purifiers under INR 20K
RO water purifiers are very popular in the market and when combined with UV filter, they function even more efficiently at fighting off disease-causing pathogens. Water purified by efficient RO systems is not only healthy and safe for consumption but also tasty. There are many good brands offering RO water purifier India, though KENT is the first name that comes to the mind. Here is a list of the top 5 KENT RO water purifiers under INR 20,000.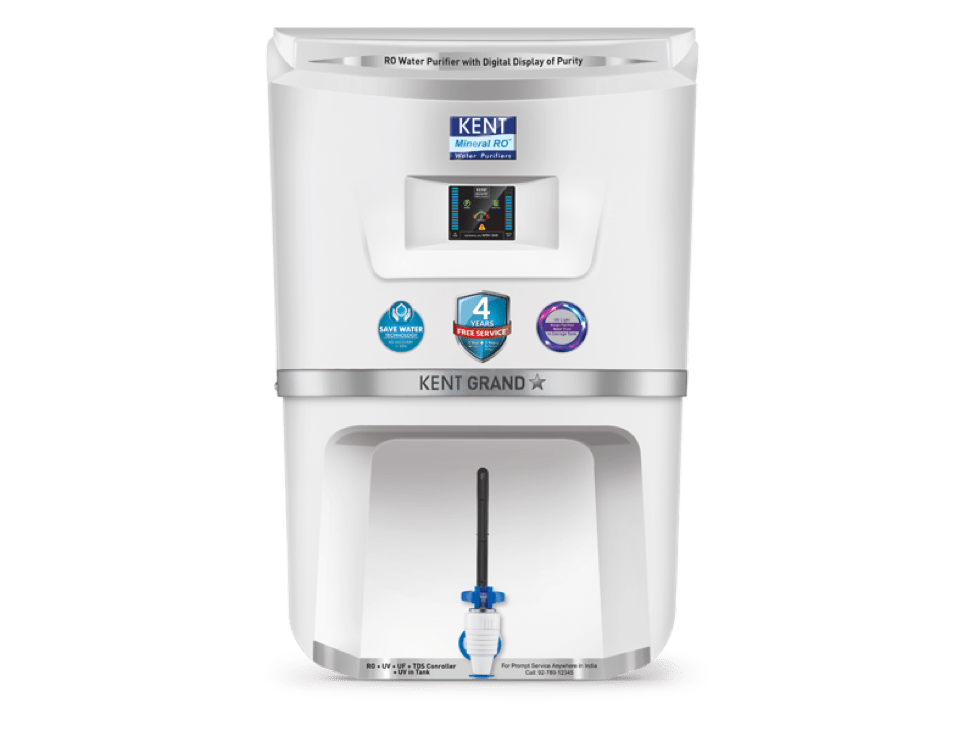 KENT Pride
This wall-mounted RO water purifier from KENT is economical and ideal for domestic purposes. It comes with a water level indicator and high storage capacity. It has an inbuilt TDS controller, which is ideal for tap water or municipal water and features a patented Mineral RO technology.
A multistage purification process with RO and UF membrane is employed to make water safe for consumption. The RO membrane with a porosity of 0.0001 microns eliminates impurities, while the UF membrane keeps the deadly pathogens at bay. KENT Pride is very economical and designed elegantly to give an aesthetic appeal to the kitchen. It is priced at INR 17,000.
KENT Wonder
KENT Wonder RO water purifier comes with a storage capacity of 7 L and a maximum duty cycle of 75 L/day. It can be wall-mounted or placed on countertop. It has an ABS food grade plastic body and is ideal for purification of brackish water.
This water purifier also features Mineral RO water purifier technology and double purification process – RO+UV/UF. Its compact design takes up very little space for installation and has a transparent and detachable storage tank. KENT Wonder is priced at INR 18,500.
KENT Supreme Plus
This high storage capacity water purifier from KENT features Save Water Technology, which recovers 50 percent as purified water. The rejected water, which is unfit for consumption, is stored in a separate tank. This stored water can be used for cleaning purposes.
KENT Supreme Plus features in-tank UV disinfection, thus making stored water safe for consumption over long periods of time. It features a multistage purification process with patented RO mineral technology, UF membrane and UV filtration. This multistage purification helps in retaining the essential minerals and at the same time ensures that it's devoid of any disease-causing germs. KENT Supreme Plus is priced at INR 19,500.
KENT PEARL
KENT Pearl is a tabletop RO water purifier with an inbuilt TDS controller and 'Save Water' Technology. It is characterized by smart design and can be mounted anywhere as per the convenience of the user. It is easy to clean as the storage tank is detachable. The water purifier comes with a patented Mineral RO technology. It has storage capacity is 8 L and duty cycle goes up to 100 L/day. KENT Pearl is priced at INR 19,500.
KENT GRAND
This wall-mounted water purifier comes with KENT's patented Mineral RO technology and features an attractive body design. It is ideal for use in commercial complexes, hospitals and homes. It features an inbuilt TDS controller and purifies water with RO+UV/UF purification process. It removes even the dissolved impurities like chemicals, viruses and salts. Its storage capacity is 8 L and purification production rate is at 15 L/hr. KENT Grand is priced at INR 19,000.
All KENT RO water purifiers are quality-tested by renowned laboratories and highly valued amongst its customers. If you are on a strict budget, the above-listed models of KENT RO purifier India are perfect choices for getting purified water.