Why you should become an invaluable family nurse practitioner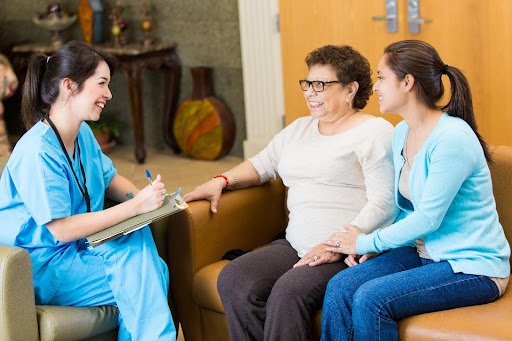 Are you looking to become a family nurse practitioner (FNP) but don't have the time or resources to attend a traditional school? Marymount University's online FNP programs may be just what you need. With an online program, you can become an FNP without putting your life on hold. Moreover, education has evolved from the traditional brick-and-mortar model and includes top-tier online programs. So, if you're already in the profession, you could continue to grow in your career.
In reality, it's never been a better time to pursue a career as a family nurse practitioner. For example, the online FNP programs at Marymount University offer you the opportunity to get your degree from a nationally recognized institution. Of note, in 2019, 100% of its students passed their ANCC and AANP certifications—on their first tries. And with leading programs, you could move forward in a dynamic career.
This article will discuss the value of becoming an FNP, the role, and the ten skills necessary for success. So, let's dive into becoming a family nurse practitioner!
The value of becoming an FNP
Becoming a family nurse practitioner is a great way to impact people's lives positively. As the profession grows, the healthcare sector and patients realize the exceptional value of family nurse practitioners. As an FNP, you provide comprehensive care to patients of all ages and backgrounds. Further, you provide medical advice and care to patients in various settings. These include private practices and community health centers. As an FNP, you diagnose, treat, and manage a wide range of illnesses and conditions and become an invaluable healthcare team member.
As a family nurse practitioner, you provide primary and preventive care to patients. This includes educating patients on health-related topics, performing physical exams, evaluating diagnostic tests, and prescribing medicines. Further, you may also manage acute and chronic medical conditions and provide essential counseling services to patients. As a result, FNPs should be able to communicate effectively with other healthcare providers and patients to ensure the best possible care.
The healthcare sector and FNPs
As the healthcare sector is constantly evolving, the demand for skilled nurse practitioners is growing. FNPs are in high demand and essential to the healthcare team. They provide comprehensive care and bring a unique perspective to patient care. And by collaborating with doctors, their work allows physicians to focus more intently on specialized care. Many nurses who practice as primary care providers train to care for older and sicker patients. These two groups may require extra attention, and FNPs play a central role in care as coordinators.
Benefits of becoming an FNP
The roles of FNPs are diverse, so no two days are the same. FNPs can also specialize in a particular area. For instance, you may have an interest in pediatrics, geriatrics, or women's health. Becoming an FNP also offers the potential for higher salaries than other nursing positions. FNPs also have the opportunity to pursue higher education and specialize in areas such as advanced practice nursing or management.
10 of the most important skills for success
Family nurse practitioners are unique caregivers who provide holistic care to patients. As a result, to thrive in this role, you should develop various skills and prepare yourself for the challenge. The fact is that FNPs are a vital part of primary care. And in a world that's continuously changing due to technological advances, you always want to stay ahead of the curve. If you're ready to shine as a family nurse practitioner, read on for some valuable insights into the skills needed to succeed as an FNP.
As a family nurse practitioner, you should always be prepared to be a team player. FNPs should have a knack for working well with others. And that's especially true if they're in more administrative roles. To succeed as a team player, you need to be comfortable with being vulnerable. You should also share your experiences and concerns with your co-workers. Being authentic, open, and willing to show your human side is essential.
Be a reflective family nurse practitioner
As a healthcare professional, you're a critical component of the healthcare system. That means you should be aware of your role in your organization. Reflective nurse practitioners are self-aware and have a knack for self-development. So, they pay attention to the fact they're humans and have compassion for themselves and others. This kind of self-awareness is key to professional growth and helps you stay grounded and improve your decision-making.
Be an effective communicator
Transparency is key to the communication process. Patients and families expect their healthcare providers to have open communication styles. Moreover, communicating with patients and their families in a healthcare setting creates a bond. Communication is one of the most critical skills for a family nurse practitioner. It's also a challenging one at times. The reality is that healthcare is a highly personal and sometimes anxious experience for patients. So, as an FNP, you need to ensure effective communication.
As a family nurse practitioner, you will manage several different data types. You may have to store vital medical records, track patient health information, or file administrative paperwork. Further, you'll make decisions about your practice's billing and finances if you're in management. State laws may require specific data management skills depending on the organization. However, in this data and knowledge age, FNPs need to know how to use data effectively and securely.
Have a knack for problem-solving
You deal with various health problems and issues as a family nurse practitioner. So, it's your job to identify the root cause of each situation and then devise a solution. Problem-solving is one of the skills you will develop over time through repetition. It often starts with simple steps like brainstorming, identifying the problem, and devising a solution. However, in time, you'll see how expert problem-solving skills help in any situation.
Have an understanding of clinical concepts
FNPs need to understand basic medical concepts. So, that includes anatomy, physiology, pathophysiology, and pharmacology. And because of the immense trust placed in them by patients, FNPs need to train in leading programs. Again, online FNP programs at Marymount University and other schools give you the essential clinical concepts vital for a solid clinical foundation. Further, leading schools allow you to position yourself to make better holistic health decisions for patients.
Stay educated and embrace change
As a family nurse practitioner, you should stay up to date with the latest medical advances and practices. Again, rapid change is baked into the DNA of the healthcare sector due to advances in technology and medicine. So, you need to be willing to embrace those changes. It's important to remember that healthcare evolves and will always continue to change. As you grow your career, look for ways to stay educated on healthcare policy and medicine.
Focus on holistic medicine for patients
Not every family nurse practitioner focuses on holistic medicine but it's essential to have a basic understanding of it to succeed. FNPs should know the basics of nutrition, disease prevention, treatment, and patient care. As an FNP, you should also know when it's appropriate to use prescription or over-the-counter medicines. In sum, FNPs should focus on using all available resources to help their patients live healthy lives.
Develop critical thinking
Nurse practitioners are at the crossroads of health care. Healthcare providers partner with patients and families to optimize health outcomes. This type of role requires a deep understanding of human health and wellness. A critical thinking approach is needed to sift through the options to arrive at the best clinical decision. You also need to understand the different laws, regulations, and policies that govern the practice of nursing and primary care to apply them. Therefore, critical thinking is vital for a successful career as an FNP.
Be innovative, creative, and adaptable
Family nurse practitioners often push the boundaries of conventional thinking about healthcare. As such, you should be innovative, creative, and adaptive to meet the needs of your patients. While you may need to follow specific guidelines, there's room for creativity sometimes. For instance, if you have a diabetic patient, you may move beyond medicine and partner with this patient on a healthier diet and lifestyle.
Long-term professional growth for FNPs
The Bureau of Labor Statistics (BLS) shows an increase in the number of family nurse practitioners. The role continues to be popular among nurses. With an aging population, better access to care, and advances in medicine, the job outlook for FNPs is good. If you decide to become an FNP, you should have plenty of opportunities for growth and salary increases as you advance in your career.
FNPs have the potential to pursue a life-long and long-term career path. With experience and additional education, FNPs may specialize in a particular care area or work in different institutions. For instance, they may choose to focus on working with families or only with geriatric patients. They may decide to work in community organizations, hospitals, private practice, or education. Who knows? At some point in your career, you may even look to teach higher education.
Additionally, FNPs may pursue leadership roles in the healthcare sector. As an example, you may decide to become an administrator or consultant. The fact is that family nurse practitioners' long-term career paths are varied and fulfilling. So, take the time to consider what you want to do with your career in time. Again, your journey can vary with the type of patients you see and the place you work, and you may even become an administrator or educator.
Why patients need FNPs
Patients need FNPs to receive comprehensive care. FNPs can diagnose and treat various illnesses and conditions, provide vital preventive care, offer education and advice to patients on health-related topics, prescribe medications, and refer patients to specialists when necessary.
Family nurse practitioners care for patients of all ages, from infants to seniors. In short, they have diverse experiences caring for different types of patients and their varying medical needs. As a result, family nurse practitioners are uniquely qualified to support a patient's entire care team. In other words, they're excellent at serving as patient care primary care specialists and coordinators.
Without an effective team approach, complex cases can become overwhelming. That's why incorporating other healthcare professionals' input is critical to providing the highest quality care to every patient. However, with so many voices in any given situation, it may become challenging to keep everyone on the same page. Fortunately, by integrating FNPs, patients' confusion is minimized while the overall effectiveness of care and treatments is maximized.
FNPs also provide patient-centered care for better outcomes. The fact is that nurses serve at the front lines of medicine—even more so than doctors. They're the ones patients see most often. As an FNP, you can build relationships with your patients and develop trust. You have the opportunity to discuss treatment options and provide vital information. You ensure that your patients receive the best possible care by delivering patient-centered care.
How nurse practitioners add to the team effort
Nursing care is unique in its ability to cross professional boundaries while keeping all partners informed. FNPs work with patients, physicians, other nurses, and caregivers for patients' conditions, progress, and treatment options. When family nurse practitioners join a primary care practice as part of a managed care team, they provide enhanced expertise and care to their patients.
For instance, many nurses learn to read body language, speech patterns, and other nonverbal cues. This knowledge allows them to understand better what physicians may miss when communicating with patients. As a result, they could add more concrete and straightforward information for patients. FNPs also train to ask the right questions. This ability allows them to get the entire story and elicit the needed information from patients. With a complete picture, professionals can better tailor care.
As a primary care team grows in size and complexity, the challenges increase. For example, the coordination of care while providing patients with a clear and complete account of their health gets more complex. But FNPs help meet this challenge. They're excellent at coordinating care, documenting services, and providing a comprehensive health information overview.
By coordinating care, FNPs help physicians, patients, and other caregivers navigate the growing complexity of healthcare. Their breadth of experience in providing health care gives them a valuable perspective. For one, they understand how different medical specialties and illnesses fit together. As a result, they can serve as the nexus and central point for patients.
A dynamic career as a family nurse practitioner
Family nurse practitioners are unique caregivers who provide high-quality care to patients. To thrive in this role, you must develop various skills and prepare yourself for growth. Further, you need to have an aptitude for many things, including team-building, problem-solving, data management, clinical decision-making, and more. By serving as an FNP, you have the chance to perform at the center of primary care. It's a career that places you at the heart of patient care, especially as a lead coordinator and information specialist.
Becoming a family nurse practitioner is a great way to impact people's lives positively. With online FNP programs at Marymount University and other institutions, you can become an FNP without putting your life on hold. These programs provide the necessary skills and knowledge to become a successful FNP. Moreover, once you graduate, you become an invaluable member of the healthcare team and make a difference in the lives of your patients.
FNPs are familiar with patients and can counsel patients and their families, easing their concerns and helping them navigate the healthcare system. Beyond these critical contributions, nurse practitioners are also well-positioned to promote the role of nursing. This is especially important as the type of healthcare services patients access continues to change and evolve.