Different Types Of Whiskey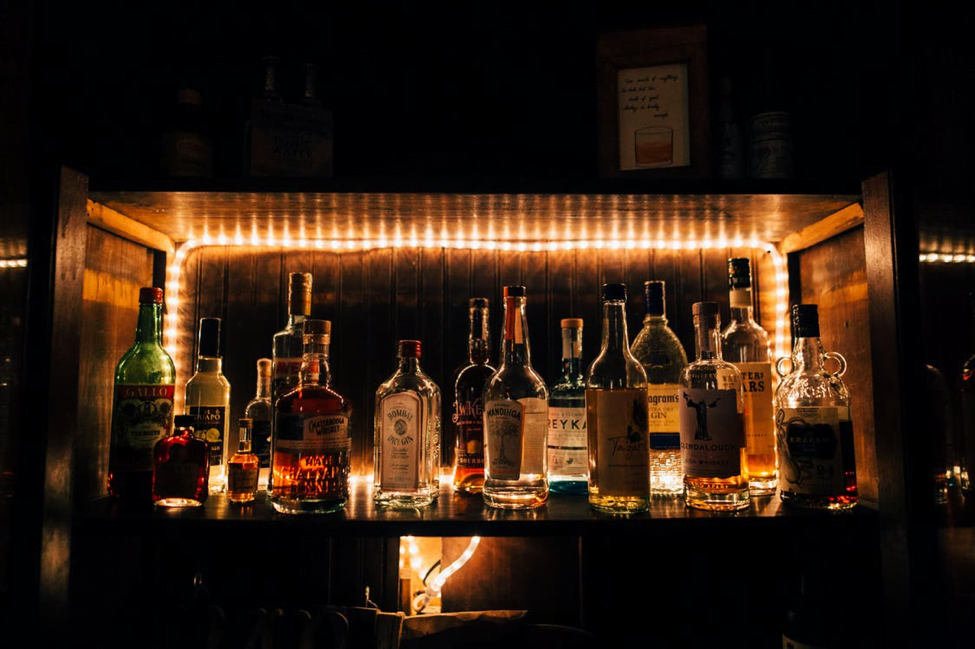 Ever walked into the bar and noticed the varying ambers and browns? If you did, then you know the diversely refined tastes whiskeys have to offer. Nevertheless, how well does your palate discern the different types of whiskey? How Irish and Scotch whiskeys different? What is the taste of Bourbon, and is an expensive glass of it worth a try?
The broad range of labels and styles is a challenge for both novices and whiskey connoisseurs.  However, choosing the best bottle of whiskey distillery is more intuitive than daunting.
Pour yourself a glass of the finest whiskey and read on as we debunk the different types of whiskeys.
Interesting Fact:
"In per capita whiskey consumption, France leads worldwide with 2.15 liters. The USA placed in third with 1.41 liters and Australia trailed at fourth with 1.3liters"
DIFFERENT TYPES OF WHISKEYS
The variations in whiskey depend upon what their composition, their taste and their region. Below, we have given the lowdown of the five different types of whiskeys that every whiskey-lover should know.
SCOTCH
THE LONG STORY
One of the first whiskey products dates back to 1494. No wonder that Scotch reigns as the most expensive whiskeys. The finest product of grain or malt, these are either single malt/grain or an exquisite blend of both. Unlike other whiskies, Scotch is not famed for its intoxication. Scotch-lovers drink it to savor its rich texture and potency. To be privileged as Scotch, the drink must be made in Scotland and of three years old.
TASTES LIKE
Imagine the earthiest and raw taste that your taste buds have ever relished? Scotch is likely to offer earthier flavor than that. A strong, earthy, and an unbelievably great drink.
THE VERDICT
Scotch is inarguably the most exquisite whiskey. So, next time you get Scotch for yourself, sip and savor every drop of it.
AMERICAN
Last 15 years, America underwent a "whiskey renaissance". Many different and diverse styles of whiskeys surfaced. Historically, there were two main types of American whiskeys: rye and bourbon. How do you tell Scotch and American whiskeys apart? Scottish people store Scotch in used barrels. While America's favorites experience aging in new and charred oak barrels, lending pleasurable flavor and aroma.
Where Bourbon challenged the Scotch's supremacy, Rye and Tennessee trailed along. Let us breakdown the American whiskey trifecta.
BOURBON
THE LONG STORY
If you think, KFC is the best what Kentucky has to offer, think again. Bourbon, from the whiskey distilleries of Kentucky, is an indispensable player in the whiskey industry. This whiskey perfection has 51% corn and malt, barley, rye or wheat compose the rest.  With zero additives, the signature drink comes in a relishing red color.
TASTES LIKE
Sweetness is a more pronounced characteristic of Bourbon, with a hint of smokiness lent by charred oak. The perfection of smokiness and sweetness is what makes Bourbon supreme in the whiskey industry.
THE VERDICT
That expensive glass of Bourbon is definitely worth the try.
RYE
THE LONG STORY
The far relative of Bourbon is making its comeback in the whiskey industry. The up-and-coming whiskey distillers are striving to restore Rye's lost populace.
As the name implies, rye cereal grains are the main component of Rye whiskey. As mandated by the law, Rye contains 51% of rye and the rest is composed of corn and malted barley. Bourbon and Rye are often interchangeable, especially in cocktails like Old Fashioned, Manhattans, and Whiskey Sours.
TASTES LIKE
Where Bourbon is more full-bodied, graininess is more pronounced in Rye. Bourbon offers sweetness while Rye comes with hints of fruitiness and spiciness.
THE VERDICT
This Bourbon's cousin will give your celebration a little edge
TENNESSEE
THE LONG STORY
Whiskey distilleries in Tennessee have their process of perfecting the whiskey known as the Lincoln County Process. They filter the whiskey through charcoal to remove all the impurities and propel the aging process. That means Tennessee has nothing to do with Bourbon.
TASTE LIKES
The popular belief that Tennessee is just Bourbon from Tennessee stems from its stark similarity in flavor with Bourbon. It has pronounced sweetness with notes of smokiness- just like Bourbon.
IRISH
THE LONG STORY
Ever heard the term uisce beatha? An Irish phrase that means 'water of life'. Moreover, what an exceptional phrase to define whiskey. Irish has the privilege of coining the term "whiskey".
Scotland may have the whiskey supremacy, but Irish are privileged pioneers of whiskey distillers. Compared to the twin distillation of Scotch, the Irish undergo three rounds of distillation. This lends a smoother and lighter note to the drink. The barley content contributes to the spicy and oily kick. Irish mandates Irish whiskey of three years of aging in oak barrels
TASTES LIKE
 Imagine a perfect blend of sweetness, spiciness hinted with an oily kick, flowing through your throat.
THE VERDICT
Touted formerly as the best whiskey, Irish is exquisite with its edgier taste.
CANADIAN
THE LONG STORY
Canadians have spent years perfecting their distinctive whiskey. Unfortunately, many people often think of Canadian whiskey as inferior to Bourbon and Scotch. In reality, Canadian whiskey is only distinct and unique in its texture and flavor. As the Canadian law dictates, whiskeys are aged for at least three years and stored in any barrel and distiller. Its high corn content makes it lighter and less flavorful. Canadian whiskey is the finest drink for sophisticated palates.
TASTES LIKE
Originally distilled with rye, Canadian whiskey has a robust spicy profile. Whiskeys that are not distilled with rye also come with overtones of maple syrup, brown sugar, and butterscotch.
THE VERDICT
Relegated by rye snobs, appreciated by all the sophisticated palates.
CONCLUSION
So, what is the best type of whiskey? There is no definite answer to this question. It differs from palate to palate; some prefer strong earthy texture while others clear their palate with sweetness. Regardless of your pick, whiskey promises to be your ideal after-dinner drink.
The broad category of whiskey is the reason why whiskey-lovers never get enough of it. At the end of the day, there is no right or wrong whiskey. Whiskey selection comes with endless possibilities. Try new drinks and explore, you may find your favorite go-to whiskey.