The 365-Day Trial and A Forever Warranty Nectar Mattress Review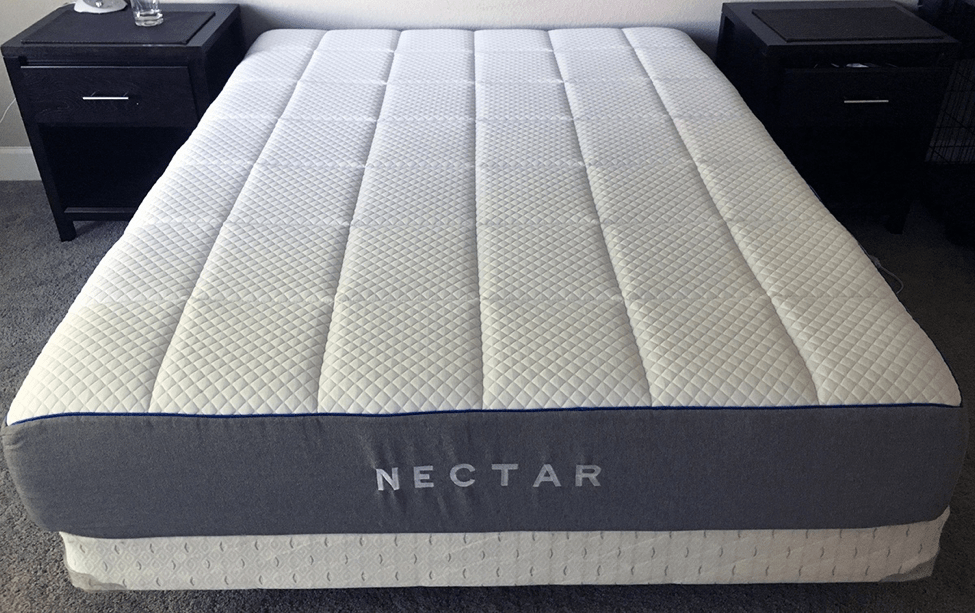 Sleep is critical to our health and productivity as humans. The same also applies to all animals. Without adequate restful sleep, we will not be at our best at work or play and our health will suffer for it. Click here to learn more.
For this reason, man has continuously attempted to find ways of making this much needed body function as comfortable as possible. One of the ways through which this goal is pursued is with the development of mattresses. In this article, we shall be looking at mattress produced by a particular brand. We are referring to Nectar.
A Nectar mattress is a memory foam bed sold as a bed in a box. Memory foams use body heat to soften and mold to the body shape which provides comfort and support. When pressure is removed, the memory foam bounces back slowly and over time remembers the shape of the body hence the reference to "memory" in its name. It ships for free and arrives rolled up and compressed in a protective bag. They are manufactured by Nectar Sleep, headquartered in Palo Alto California.
Nectar offers you a 365-night trial to test out the bed and return if not satisfied. That is 265 days more than an average bed-in-a-box companies give. If during this period, you decide you do not want or like the mattress for any reason, all you need to do is contact their customer support. They will arrange for pick up free of charge. The entire process of return and refund should not last more than 2 weeks.
Nectar also has a thing they call "forever warranty". By this, the company means that they will replace the mattress with no questions asked if any defect is found in 1-10 years. After a period of 10 years, if any manufacturing defects or material failures are found, the company will either repair the mattress or re-cover it. They will also cover transportation costs. Nectar mattresses are affordable memory beds and are cheaper than the industry average. They come in different sizes and you can only purchase them online. Once it arrives at your doorstep, unroll it. You will need to leave it to decompress and fully inflate for between 24 – 48 hours before you can put it to use.
What's Under it All?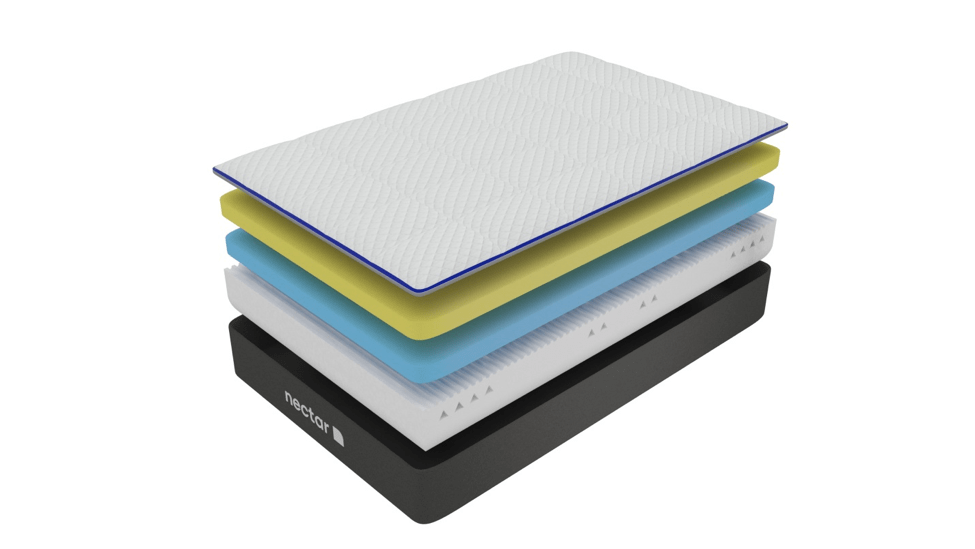 A Nectar mattress consists of four layers and it is 11 inches thick. It has a top layer of quilted gel memory foam which is followed by a secondary layer of gel memory foam. Then there is the layer which the company calls "Adaptive Hi Core Memory Foam". This is a transitional layer between the base foam, which is the next layer and made of high-density polyfoam, and the second layer. These four layers are covered by a removable wrapper which is a blend of Tencel Lyocell and cotton. This makes it soft and comfortable and all together, make the mattress look great.
Though the cover is removable, if there is a spill on it, it is advisable to spot clean it with water and a dab of mild detergent. This is better than removing and machine washing it.
The Nectar mattress also has a firmness between a medium and medium firm. It is quite firm at first when you lay down on it. You do not immediately sink into it but it happens gradually.
What Makes The Nectar Mattress Special?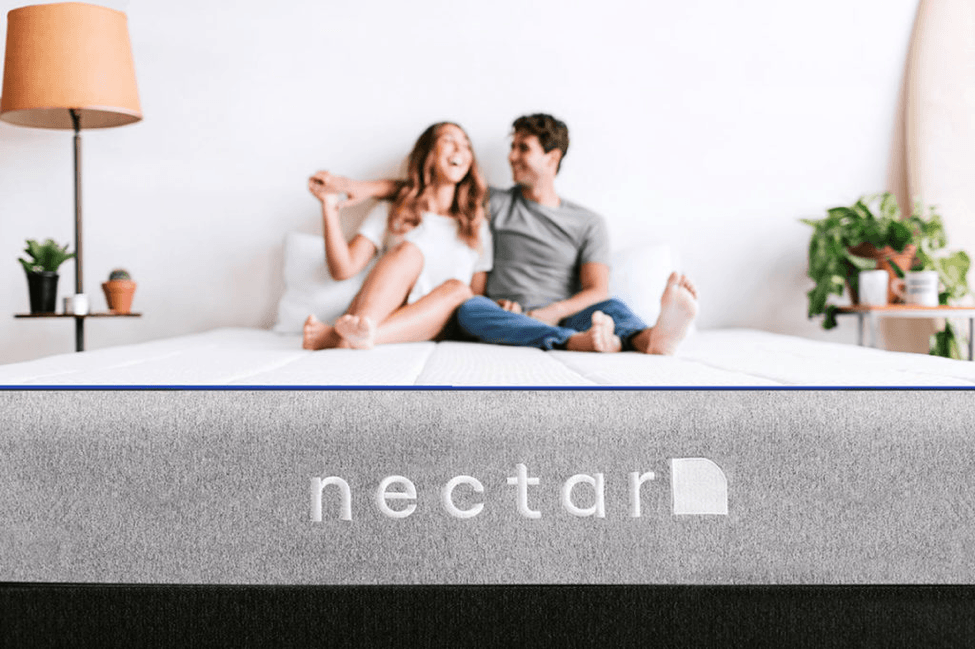 It Is For All Forms of Sleeping Styles
Regardless of which position you like to sleep; on your stomach, on your side, on your back or whether you are a combo sleeper, the Nectar Mattress accommodates all. Side sleepers will enjoy sleeping on it as it cushions and hugs the hips, shoulders, and body shape providing a great amount of pressure relief.
For people who sleep on their backs, you also feel a great deal of pressure relief as the soft foam contours into the body and fills the spaces. It may seem firm initially but in 4-6 minutes, it responds to your body which then gradually sinks into its embrace. Couples who awaken easily due to movement and noise will also find it suiting.
The way this mattress will respond is determined by the weight of the person sleeping on it. People with lighter body weights may not experience the same pressure relief as people who are heaver as it feels firmer for them. To know more, read other reviews of the nectar mattress anywhere you can find them.
Price
It is one of the most affordable memory foams available on the market.
Trial Period and Warranty
Despite being one of the most affordable, it is the only mattress that gives a trial period of a full year and you can even do an exchange. Most companies won't give you that. In addition to this, there is a "forever warranty" as stated earlier.
Durability
The Nectar mattress is still a relatively new product but due to the materials used in its production, it is projected to last upwards of 9 years. Rotating it regularly is recommended especially for heavy sleepers to avoid impressions on it over time due to heavy usage.
Pressure Relief
This mattress conforms to the body providing great relief from pressure. The two memory layers absorb and cradle the body which evenly distributes weight across the surface. If you like that feeling of sleeping "in" a bed, this will give you a great experience of that as it provides a cushion to the contours of the body.
Motion Isolation
When two people sleep on the same bed, it is likely that the movement of one may disturb the other. For Nectar, there is little movement or motion transferred from one side to the other. Most users say they could not feel any movements from those they shared the bed with despite these people moving. It does a great job of deadening movements. This translates to better sleep for each person.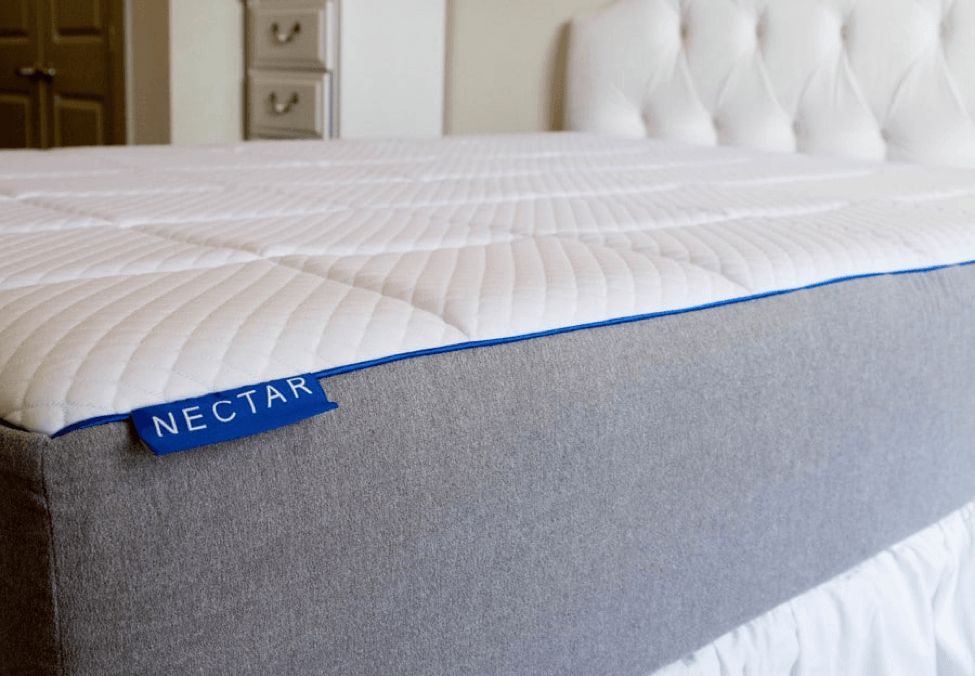 Edge Support
It provides decent edge support whether you are lying on it or you are seated. The mattress sinks in as other all-foam mattresses but it performs better when compared to these. There is little compression when you approach the edge so you will not feel as if you will slip off it.
Noise
As it is an all-foam mattress, it is silent. The fact that it has superior motion isolation also helps a great deal with this. This makes it a nice option for people who are easily disturbed during the night and it is also discreet during sex.
Conclusion
For its price and features, the nectar mattress is a great deal as it provides excellent value. If you like memory foams, then this is for you. It is compatible with any bed frame. Nectar also has an adjustable bed frame if you like one.